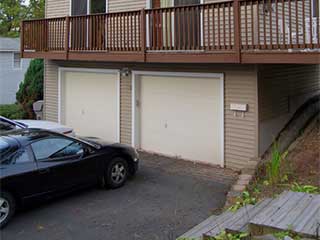 Garage door systems are too big, complex and heavy to be completely silent! Though, how do you know if the loud noises you're hearing are usual or if they are signs that something is going wrong? Do noisy garage door parts indicate significant problems with the mechanism or do they just require a little bit of lubrication and troubleshooting? In our experience, this is something that often confuses homeowners, which is to be expected.
A Little Bit Of Noise Is Usual
In most cases, a little bit noise is actually totally normal - especially if you're system is using a chain or a screw opener drive. If there has been little change since you first installed your system or opener, there is probably little to worry about.
If Your Door Is Gradually Making More Of A Racket
If your door is gradually making more and more noise, this could indicate a need for lubrication maintenance. The moving parts of your system, e.g. the rollers and tracks require occasional lubrication to ensure smooth functioning and to stave off rust. If your moving parts have already been lubricated, but the noise continues, it is probably a good idea to have your opener inspected. A gradually noisier system can sometimes indicate a motor gear that is failing – you don't want to wait until it completely wears before calling a professional to check it out.
Sudden Loud Noises
If you hear a very loud noise that comes all of a sudden from the direction of your garage, there is a high probability that one of your springs has snapped. Due to the pressure pent up in these components, it is common to hear a loud 'bang' when this happens. It will be fairly obvious if this has happened as you will likely find the spring lying on the floor and discover it is now impossible to open or close your door. If you are dealing with a broken spring, we strongly recommend you do not attempt to handle it yourself – these components can be dangerous and unpredictable and require professional knowledge when it comes to repair and replacement.
Our advice is not to ignore any changes in noises your hear coming from the system, when it comes to the sound or volume. It may be nothing, or there could be an underlying issue with one of your components – it's always best to be safe rather than sorry!