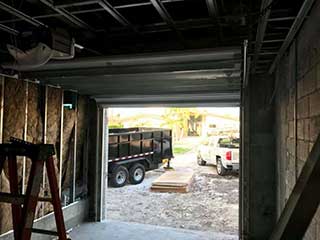 A number of variables will determine the lifespan and condition of your garage door - the weather conditions where you live and the level of weatherproofing you have installed will also play a part. It's not just a coincidence that there are so many different types of weather seal on the market, it may surprise you to know that small details like these can make a fairly dramatic difference to the long-term durability and condition of your overhead door, as well as to the contents of your garage.
The Material Of Your Door Matters!
Generally, wood is not recommended for hot, dry and sunny climates as fluctuations in temperature can cause the wood to swell and cause the finish to break down faster. Similarly, this material can also deteriorate faster in areas with considerable levels of salt in the air. Other than this, wooden doors (e.g. Cedar and Redwood) will generally last well in more moist areas of the country. We recommend reapplying a protective top coat to your wooden door at least every 2 to 3 years to ensure it stays protected from the elements.
If your garage door is made from steel, this is generally a very durable option however it is susceptible to corrosion in certain climates. The best way to prevent this and keep your panels in great condition is to apply anti-corrosive treatment at least annually - this should help keep the rust at bay. We also always recommend galvanized steel doors to ensure an extra protective layer.
For further guidance for protecting another type of door material against the elements, just get in touch, we'd love to help.
Weather Seals Are Always Wise
Weather seals will help to close the gaps between the door, preventing cold, heat and air drafts from coming in. The bottom seal actually has particular importance. If it's damaged, you won't only deal with bad temperatures indoors but also possibly with dirt, rodents, insects and dust inside your garage.
Save Energy With Proper Insulation
Properly insulated doors will help to maintain optimum temperatures within the garage and help you to save money in the long run – losing energy from the house through the garage is one of the most common ways homeowners unwittingly drive up the cost of their energy bills.
There is a lot more to be said when it comes to ensuring your door and its parts are prepared for any weather that comes their way, wind, rain or sun. The surest way to ensure you've done what you can for your system is to get in touch with our specialists at Garage Door Repair Cypress for advice!