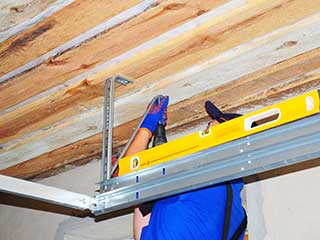 Garage doors are complex systems that require professional attention when things go wrong. Our team is available for any repair work you're in need of and much more. We can also install any new part and we're on hand to help you find the best products for your needs.
Replacing And Adjusting Springs
The springs that your system relies upon are under a lot of stress on a daily basis. Any type of task that's more complex than basic maintenance like lubrication should be handled by an expert. We can perform spring repair work, adjustments and replacements, all according to strict safety guidelines. You should always contact us when dealing with a problem related to these dangerous components.
Choosing And Installing a New Opener
Whether your old opener is playing up and is close to the end of its life, or you're simply looking to arrange an upgrade, we can help. Not only do we perform new opener installation to perfection, we can also guide you through the shopping process and recommend the perfect model that comes with all the safety and security features you need.
Taking Care Of Damaged Panels
It may be that your door has sustained damage and needs to be replaced completely or simply has some minor surface dents which can be ironed out. Whatever the situation, you can count on our team for help - we can straighten out minor to moderate bends, and replace any affected panel with a matching one that won't ruin your property's curb appeal.
Count On Us
As a leading garage door repair provider, our experts at Garage Door Repair Cypress have developed quite the reputation for itself. Not only do we have our highly skilled technicians to thank for that, but you, our customers, as well. We enjoy helping every local homeowner out with their problems, and we'd be more than happy to provide you with an effective and affordable solution whenever you need one.
We also offer:
Liftmaster Chain Drive Lubrication
New Opener Remotes & Clickers
Garage Door Cable Replacement
New Garage Door Installation