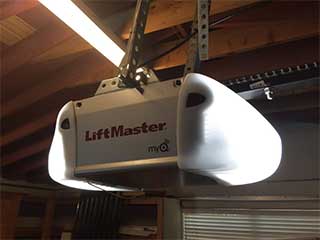 Repairs And Maintenance Done Quickly
Years of using your garage door daily are bound to take their toll on your opener eventually! If you're struggling to deal with your door suddenly reversing when it's supposed to close, a lot of racket, or it not opening at all, the issue likely lies with this important component. Leaving it and suffering through these problems may save you some money now, but it'll cost you in the long run when more problems occur from the system straining. DIY may also wind up backfiring and making things worse if you don't know what you're doing and can be dangerous! It's best to let our trained technicians come out and handle it all so you know for certain it's being done right. Whether the motor needs to be replaced, or the sensor is broken, we can take care of it. We also offer periodic maintenance to help keep your opener in good shape for longer!
We Replace And Install As Well
Maybe you're sick of your current opener that wakes up the household whenever it's used and want to get a quieter one put in, or perhaps you've already picked out a nice sturdy one that will last you a long time. Whatever the case, we're here to assist you! We can help you determine what type of opener should work best for you and replace your old one before you know it or put together the one you've already bought and get it installed.
Fast Service You Can Count On
Our experts work quickly to get the job done so you aren't stuck waiting around, but never at the expense of a job well done. That's the kind of quality service you get from technicians with years of experience! We'll be able to determine the best solution and implement it in no time so the job is as quick and painless for you as possible.
Get Your Door Like New Again
Call Garage Door Repair Cypress today so we can take care of it all!
You can also count on us for:
Garage Door Tune Up Services
Opener Sensor Replacement
Oil Tempered Torsion Springs
Roll Up Garage Door Services